With less than two one month week until kickoff, it's time to end our roll through the upcoming FSU schedule with little-known and untrue facts about the Noles' opponents in 2007. We finish with a team described by H.G. Wells as "those orange and blue clad harbingers of doom." Enjoy.
The University of Florida was founded in 1513 by Juan Ponce De Leon, having discovered on the site a "font which pour'd forthe gilded trophies the magnitute of which have never before been seen by Christian man." The land surrounding the fountain was then named Hoggespaniola, and all treasures to be recovered thereupon claimed for the Spanish Crown. For over 4 centuries El Fuente de los Trofeos del Campeonato Nacional, Mítico y No Mítico, produced awards of unparalleled beauty and significance, all of which were crated by university students and shipped to the Iberian penninsula, for redistribution. The indiginous peoples who had made Central Florida their home objected to this thievery, whereupon they were shot at, attacked with alligators, and chased to the northern reaches of the state, where they took their revenge by founding their own college to collect and harvest fertile young white women.

De Leon ignites the Florida / Florida State rivalry by stating simply, "All your trophy are belong to us."
The tradition of sending maginificent trophies elsewhere would likely have continued, if not for the intereference of a fiesty young Tennessee native, who in 1966 led a small raiding party north to New Yorke, stole one of the most coveted prizes in the United States, and returned it to the Hoggespaniola campus. At the time, the U.S. Government still considered areas of Florida "so wild and unihabitable as to make a reasonable man cease chase for his very mother into those dank swamps, much less attempt to recover an unsighlty bronze bust handed out every year to some sport's Mr. Popularity. Fuck it, we say." The raiding party was known as the Denim Britches Band, led by a man known today only by his website url, but referred to in those days as, The Placekicker. The Placekicker's raids continued, mostly upon local turkey grillers and private golf courses, until he was exiled from Florida for a term of 15 years.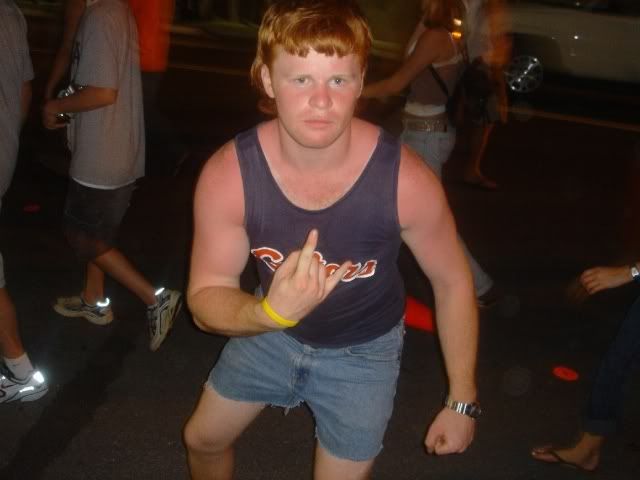 The Placekicker prepares for yet another raid with his infamous Denim Britches Band.
The Placekicker returned to Hoggespaniola in 1990, and for the next decade pilfered all manner of trophy that had once been destined for the University of Alabama, especially those for feats on the football field. This prickly pear was especially adept at bear-mauling the egos of his quaterbacks, shoving needles into voo-doo dolls of opposing coaches, and winning a crap-ton of football games. Realizing that the ensuing avalanche of font-spewed trophies would kill an ordinary man, they secreted the famous Placekicker away to a rumored safehouse in the NFC East, while work began on a football-coaching robot that could withstand the sheer weight of El Fuente's wares.
The beta version of the robo-coach was a half-success. While able to lure the finest of footballing youth to Hoggespaniola, the RZ model was unable to properly function on Saturdays, where sweltering Southern temperatures caused wiring glitches in offensive play-calling, and fourth-quarter defense. In response, El Fuente's gilded trophies escaped far to the West Coast. And possibly Louisiana. Although three years of getting better and better followed it's initial launch, the early model robot was redacted from the project and shipped North. There, far from the reaches of debilitating humidity and the title producing fountain, wins are measured only in friendly tazering incidents and currency alteration.
University scientists perfected the robo-coach in 2003. In order to hide their creation from competitors, they named the artificial intelligence after singer song-writers of dubious talent, yet considerable access to hot women, and tested the robot in the furthest reaches of the Western desert. The hard work was justly rewarded, as the robo-coach proved more than able to handle El Fuente's resurgent glut of trophies, all while sporting leather jackets rejected by Arnold Schwarzenegger from the set of "Terminator."

Urban Meyer, robo-coach, after taming El Fuente de los Trofeos del Campeonato Nacional, Mítico.
Now that Univeristy of Florida has a newly created robo-coach with all manner of cheetahs (chronically inflamed or not), baby rhinos (Ewok or not) and fire-starters (on roster or nearby) at his disposal, it's true what your granpdpa told you: The road to glory goes through Hoggespaniola.
Previous Opponents: Clemson, UAB, Colorado, Alabama, NC State, Wake Forest, Miami, Duke, Boston College, Virginia Tech, Maryland.