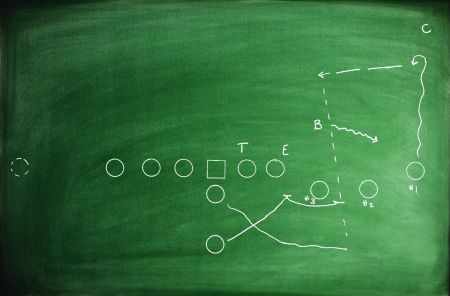 So now that we have Oregon and Arizona State dueling (so far) in the desert, I'm reminded of Jeff Cameron's disdain for "gimmicky" or "trick" offenses. To wit:
Because they would likely kick it out of the endzone afterwards & because I disdain chicanery on a damn extra point I would crush the kicker…

Every time Oregon pulled that bullshit in which they sprint out wide on the PAT and then returned to kick it.
I think there is very important distinction to be made here, between what we like as fans of sports and college football and what we like as fans of a certain team.
Sports, for the vast majority of the world, are entertainment. That's because the majority of the world is not playing sports at all, and an even greater majority are not playing a particular sport, and an even greater majority are not playing whichever particular game is on TV or on the field in front of the fans. And for this enormous majority of people, for the fans, a sporting event is entertainment. And as such, should be as entertaining as possible. At least, this is the way I view it. So when I watch sports, especially games not involving my favorite team, I want to be entertained. In the football context, that means inventive, creative, and unique offenses. Option, triple option, read option, gimmicky, trick, throw the whole kitchen sink at me. I'll take all of that over 6-3, run over the center, concussion fests. Certainly, the ideal is is a track meet, with both teams scoring in the 30s-40s, and not the (apparent) blowout of this game. Point being, as a general, unaffiliated fan I want to see big plays, I want to see offensive sets I can't see anywhere else, and I want to see some TD celebrations.
All of this changes when we approach specific fandom. Yes, we would love our favorite team to be entertaining. But what we want them to be most of all is successful. Only the most ideologically stubborn fan (hey Gooners!) would sacrifice wins for style. And as specific fans our desires overlap with the players and coaches of our favorite team. Ultimately we want our favorite teams to be effective. And in the context of college football, that means having a massive defensive line and a mistake-free offense. Until Oregon wins a national championship, or even beats a stout SEC team, their particular brand of offense won't be "effective" in the way we want from the teams to which we tie our hardcore fandom.
Which is why I can be perfectly happy that Florida State is constructed as it is: dominant D-line, nigh turnover-free offense, and predictable losses to a double-digit underdog when Jimbo's sphincter tightens and drowns our own offense in conservatism (I kid!); and at the same time I can truly love watching Oregon read option their way all over the Pac12, and West Virginia and Baylor spray TD passes all over a Saturday afternoon. I know FSU will be effective, and I'm glad Oregon is entertaining. I certainly hope Jeff, and Nick Saban, have a decent beer, or an NFL game, to get them through these gimmicky games that are killing college football.